My friend Diane Rusin Doran has a new Quilting Arts Workshop! It is available on DVD or as a digital download, and is called Digital Surface Design: Simple Techniques for Hand-dyed Fabric Effects and More. Here's your chance to win a copy of the DVD: keep
reading, and then leave a comment at the end of this post.

This post is part of Diane's Blog Hop Giveaway. There will be six winners. Each of the five blog hostesses (including me) will randomly select a winner from the comments on her blog. That person wins a copy of Diane's DVD.
A sixth winner will be randomly selected from all the remaining entries to win four fat quarters of fabric Diane designed using techniques from the workshop (oooooh… aaaaaah…):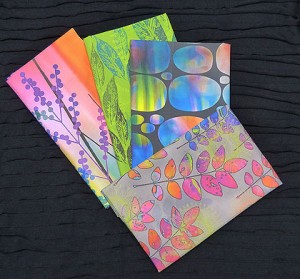 This is the first one of Diane's quilts that I saw in person, in Houston in 2010:
Return of the Grackle by Dian Rusin Doran
I was absolutely blown away. It is called Return of the Grackle, and was created by collaging elements in Photoshop. Because it was printed on silk before quilting, it shimmers, and the colors look very iridescent. One of the things I like best about Diane's work is that it has great visual appeal from a distance. Luminuous colors, great design elements, movement, depth, and layering … and then you get up close and you are seduced by the wonderful quilting.
Return of the Grackle (detail) by Diane Rusin Doran
This quilt was awarded Third Place in the Digital Imagery category at the 2010 IQA Judged Show in Houston and Third Place Innovative at the 2011 Pennsylvania National Quilt Extravaganza.
Diane's quilt below is called "California Dreaming," and is part of of the Dinner at Eight Artists' "An Exquisite Moment" exhibition (my piece "First Snow" is also in this exhibition).
California Dreaming by Diane Rusin Doran
California Dreaming (detail) by Diane Rusin Doran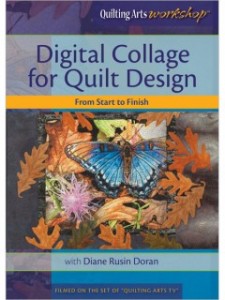 Diane's first DVD is Digital Collage for Quilt Design from Start to Finish. You can see more of her work and read about her process on her blog, Ooh! Pretty Colors.
Diane's new DVD focuses on how to create digital art cloth that she uses in her work. Just what is "digital art cloth"? Well, it is cloth created on the computer that is designed to look like it was created using traditional surface design techniques such as hand-dyeing, drip-dyeing, painting, low-water emersion dyeing, stamping, stenciling, discharging and screen printing.
Diane walks you step-by-step through her process, using Photoshop Elements (the inexpensive version of Photoshop), so that even a beginner can achieve great results. I already know a fair amount about Photoshop, but even I learned some new tricks. My biggest revelation: there are things I've been wanting to try, but have shied away because of the mess and the chemicals. Watching this DVD made me realize that I can achieve these effects without the mess, a ton of practice, and stress.
After you design fabulous original fabric, you can either print it out on your own printer, or have it printed at a service like Spoonflower.com.
Want a sneak peek? Here's a video preview!
GIVE-AWAY!
I'm giving away a DVD download of Diane's new Workshop.

Leave a comment after this post and tell me a little bit about why you'd like to win. Please leave me a way to contact you!
I'll pull one name at random at noon, Tuesday, Jan. 28. The winner will be announced at the end of this post on that day. I'll also pick a second person to be eligible to win some of Diane's custom-designed cloth. (You can read about it on her post). That drawing will take place on Diane's blog.
Note:

If your comment does not show up right away, please don't freak out. Please post only one comment. I now have to moderate/approve all comments, because I was getting a ton of Japanese porn spammers leaving comments on my blog!
Here's the entire Blog Hop schedule; leave a comment on each blogger's post about the DVD for more chances to win.